Ebay
Rescued March 2005
Adopted May 2005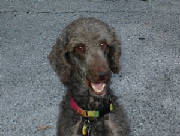 Ebay is an active and happy 4-year old. Always readyb for a game of tennisball, a campout or just lyin' around watchin' TV.
6-4-05 UPDATE
Ebay hits the open road.
Sometimes the perfect home is close by. Occasionally a dog is so special, that we look beyond the boundaries of Florida for the right match. For Ebay, that turned outr to be a multi-poodle household in Dayton, OH. We agreed that flying was not an option for a dog with Addison's, so at 4am we loaded up and headed to Chatanooga, TN. 11 hours later, we met his new mommy and they headed for home, by 9pm, he was in his new back yard, making it his own.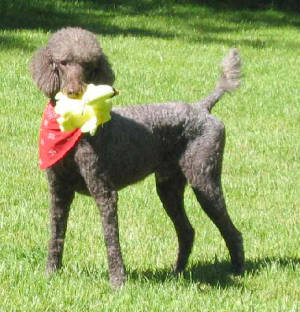 3-5-05
Ebay has been diagnosed with Addison's Disease. This condition, though serious, is completely manageable by a monthly shot. As long as he gets his shot on schedule, you will never know there is anything wrong with this big, brown teddy bear.


And, unlike most poodles who require monthly grooming, Ebay's coat grows so slowly, that he will only require 3 to 4 grooms per year. The money saved in grooming will pay for the medication.

If you have room in your heart and home, call or email.
--------------------------------------
Yummie
Rescued April 17, 2005
Adopted May 15, 2005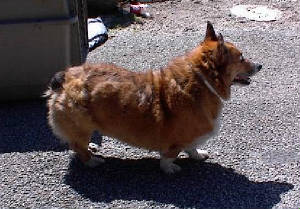 5-20-05 UPDATE
Yummie, now Jack, has the full attention of his new family in Central Florida. A summer full of dog parks and and picnics await.
4-17-05
Yummie was surrendered to Broward Animal Control. He is being treated for scabies and kennel cough. A Male, neutered Pembroke, he is an active and curious little guy. Ready for adventure at a moment's notice. Good with cats, kids, other dogs. Likes to play tug-of-war.
If you are looking for a buddy, email or call 954-650-7220 for an adoption application.
--------------------------------------